Admin




Posts

: 67


Join date

: 2011-06-01



Shades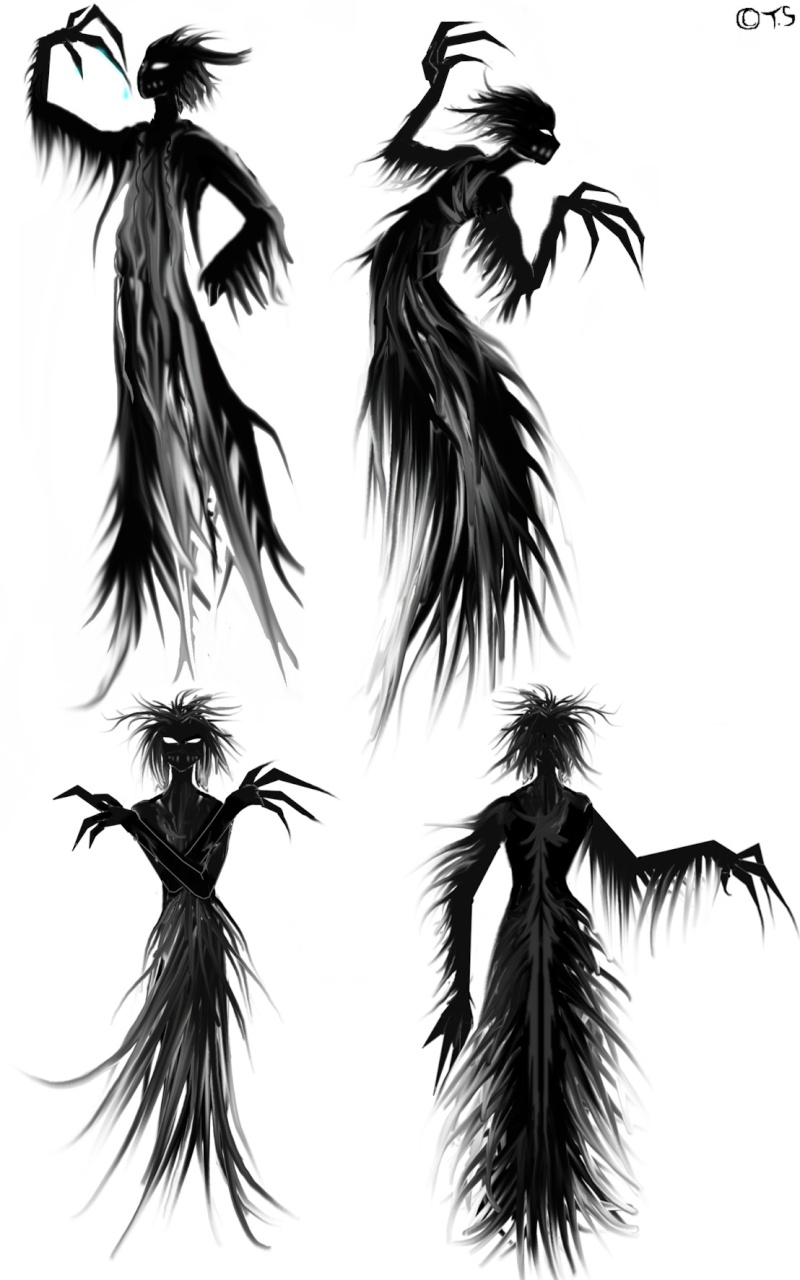 Creatures of the shadow, who serve their master, the Shadow Emperor. Black as night and deadier than an assassin. The rise from the shadows and attack with their finger like talons, each one sharp as diamonds. They do not know or understand defeat. They will not retreat. They come wave after wave, never ending, to slaughter any that get in their way of their target.
Realm/world:
Shadow Realm
Powers:
can use the shadows like gateways to hide and attack from
Weapons:
They finger like talons, which are sharp as diamonds
Weaknesses:
Cannot handle bright light
Admin




Posts

: 67


Join date

: 2011-06-01



Creature Name: Vespa
Creatures Aged Existance: Descovered over 7,000 years ago
Description:
They are extremly tall going over the bounderies of 8-10 feet tall in height, as for weight they can go from 150-400 tones, mkaing them extremly heavy to even pick up as well as having thier heads well out of thier enemies reach, they normally have jet-black skin with blazing red or eerie blue eyes, allowing them to see in the dark as well as foggy and heavy rain. They wear the skulls and bones of thier worthiest kills as well as slicing thier own skin to keepcount of thier kills.
Weapons: they go back to primitive weaponry such as bone swords and sling shots, however they do use deadly force as well as thier supreme weapon Long Sword Bone Crusher, which is a long heavy bladed bone calved from the leg, arm, wing, ribs or skill of a wyvraven (smaller but agile type dragon).
Powers/Abilities:
1)They can see in the dark as well as having a high sence of smell.
2) when in danger of death they commite a curse on thier foes hopeing they will gain bad karma.
3)They worship the Black Goddess of Limia, allowing them to possess the powers of darkness and enchantments. Any foe whom controles the power of darkness will have a hard time against these Vespa.
Locations: The Vespa are well known for roaming abandoned areas as well as heated battles. They crave fighting as much as they crave hunting, they look for powerful warriors to slay to gain respect. As well as looking for a snack to feast on.
Weaknesses: They can not die by the site or touch of light, however they are afriad of it. And will cause them to go either into a frenzy or a panic, even if they are tall and powerful. The fragilness of thier hearts can cause them to go into a cardiac arrest or a overwhelming frenzy until they either die or fall from exhaustion and bleed from thier insides until they are vanquished.
They are a cruel and vile race, no one would miss them if they were turned exinct, if only that was the case. Considering it is almost impossible to find a Vespa who does not want to be found.
Admin




Posts

: 152


Join date

: 2011-06-01


Age

: 25


Location

: London



Creature Name: Dreggling
Creatures age of existance: Over a millenia
Description:
Massive war hounds that blaze with flaming fur, extremly bright and extremly hot, thier height can reach up for 8 ft and weight is over 2 tons. Considering these dregglings are used by the Vespa, they have extremly powerful fangs that are as strong as any Steel, as well as heavy thick flesh to keep them alive even from extremly heavy attacks, they are versitile and dangerouse in packs.
Weapons: Flaming fur, fangs, claws
Powers/Abilities:
1) They can scale walls and high vertical obsticals at high speed, as well as using thier blazes to cover thier actual body, such as spering out flames and leaping at thier foes for deadly effect.
2) Able to sper flames out from thier fur as well as blow flames from thier mouths, when they howl this also causes them into a fury allowing a inferno to engolf thier enemies.
3) Controling fire also allows them to controle the heat tempreture around then, if they wish to cause a heatwave and make it hard for thier enemies to breath. They just need to turn up the heat.
Locations: normally in the area where the Vespa reside, however if rouge packs are found, they can be found near Lava pits/Volcanos, hot areas such as deserts as well as burnt out or ashed forests, as well asfinding them in the NetherWorld.
Weakneses: Water is a big no go against Dregglings, thier fire is too intence to be put out and instead you'll only make it worse allowing them to grow even more feircly. Instead try to cut the Oxygen away from the flame, without air there is no fire to grow from.
Admin




Posts

: 152


Join date

: 2011-06-01


Age

: 25


Location

: London




---
Permissions in this forum:
You
cannot
reply to topics in this forum